Mountain Biking – Afan – An Enthusiasts Dream
Mountain Biking – Afan – An Enthusiasts Dream
Mountain Biking – Afan – An Enthusiasts Dream
Whether you are a hardened mountain biker, a road biking enthusiast or a family looking for some easy adventure cycling, Bryn Teg House self catering accommodation puts you in the centre of the stunning Afan Valley. Our cottages are 100 yards from the low level cycle way which takes you to all the trails.
Whether you are a hardened mountain biker, a road biking enthusiast or a family looking for some easy adventure cycling, Bryn Teg House self catering accommodation puts you in the centre of the stunning Afan Valley. Our cottages are 100 yards from the low level cycle way which takes you to all the trails.
Purpose built mountain bike trails
When it comes to mountain biking, with over 130km of purpose built trails, Afan is second to none. From singletrack winding through forest, to exposed rocky descents, jumps, burms and amazing views, it has it all.  The trails are supported by a continual programme of maintenance and development. There are over 9 major trails with links and new routes being made available. Whatever your confidence level, in Afan you will have an amazing weekend of biking. If you are extreme, then get some air, or if you're not sure, then get off and walk round. Nothing is 'all technical' or 'all too smooth', you will find everything.  See below for specific trail information:
Hassle free – on the doorstep
Bryn Teg House offers three fully equipped cottages. You can cycle in/out direct to the trails so there's no hassle with having to keep loading and unloading your equipment from your vehicle when staying with us!
You have three choices to start your day; turn right at the top for 15 min flat rides to Glycorrwg Moutain Bike Centre (NE), turn left on the same side of the valley for 'The Wall' and second part of 'W2' (W), or cross the bridge and pedal to the Afan Forest Park Centre for lots more trails (SW).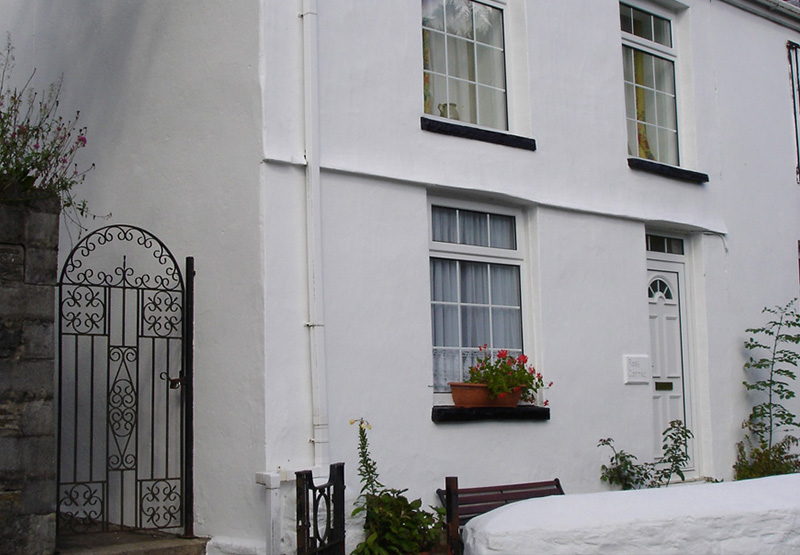 Secure bike storage and cleaning
We offer you a secure cycle storage area where your bikes can be safely locked-up.  We also provide a hosepipe too so your bikes can be left shiny and secure while you pop down the pub!  The secure storage is a single access only covered area right next to the house with steel anchors and a huge security cable you can wind through frames. Having bikes safe and clean is a priority for any weekend away.
Most bikers also clean their bikes before loading up to go home, which saves you cleaning the car at the other end.
Road cycling and family biking
There are many road events passing through South Wales, not least the Dragon Ride which sweeps through the Afan Valley. The roads are smooth and the scenery is stunning.   If you love road cycling, then Bryn Teg House cottages are an excellent base. You can put in some big loops back to home and then head down the pub to re-fuel. If you want to cycle as a family with younger children, then there's a huge amount to offer. The Rookie trail is an absolute blast with the younger ones and there are loads of places to stop, take in the scenery and have a picnic. You don't need to do much climbing to have fun as the almost level disused railway paths link up on both sides of the valley and run just 100 yards past the cottages.
A Typical Weekend Mountain Biking
After eating a full cooked breakfast in the well equipped kitchen, you can make up some rolls and snacks to take along, or plan to drop down to Afan Forest Park, or Glyncorrwg for lunch and coffee.  Unlock the bikes then it's a flat cycle 15 minutes to the start of the trails. Jackets off, then climb for 30-45 mins (between 200-300m depending on the route you choose). Take your time and stop to check out the views!
That's the hard bit done. The rest of the day will seem like a rollercoaster of fun swooping through twisty forest, over drops and round burms. You know it's been a good day when anything not carried or welded to your bike is lost to the forest!
After dropping back down, you can choose to do it all again, or head back to scrub the bikes. A shower.. gallons of tea and snacks, then it's a 5 min walk across the bridge to The Refreshment Rooms for a few beers and a huge hot meal.  Then it's… sleep, eat, climb.. repeat, but don't forget to get some decent photos. The area is stunning.
In mobile or tablet view in portrait, please see trail details BELOW this tab menu.
White's Level Trail
Distance: 15km
Time: 1.5 – 3 hours
Climb: 400m
Start: Glyncorrwg Ponds (Mountain Bike Centre)
Overall Grade: red / difficult, with an optional black loop
White's Level is the first tab on our list because it's voted to be the most fun. This is also the most technical trail at Afan with 90% purpose built single track. If you haven't been to Afan before, then do this. There are two 'off the scale' fun sections a way along White's Level after the big climb from the Glyncorrwg Mountain Bike Centre, namely 'Energy' and then 'Darkside'. The rides, forest and views are varied and awesome. Beware two sections, both on Energy. One is a steep rock slope (don't brake or you risk sliding sideways) and the other is the boardwalk section.  The rock slope will come at you before you realise, so just go for it (but remember to lean back and not brake) and the other has mesh that helps grip the tyres, but doesn't get on well with legs, so keep an even speed (not too fast and not too slow)! Don't be put off by this advice, it's all very doable. It's the best Afan has to offer.
Some of the descents are truly awesome and will make your fingers tingle. If you are a mountain goat and manage to get to the top of the first climb way before your mates, then do the black loop which comes back to the same point again (start/finish point 12 on this map). Better than waiting for slow mates and getting cold at the top.
The Wall (Y Wall) Trail
Distance: 23km
Time: 1.5 – 3 hours
Climb: 450m
Start: Afan Forest Park Visitor Centre, or half way down the North side of the Valley is easier from Cymmer
Overall Grade: red / difficult
The Wall lives up to its name. At some points the side of the hill seems to drop away very steeply (even though you're in deep forest) and for the faint hearted, a couple of the switch back bends lead you to slow more than usual as it seems like a sheer drop off the side (it isn't though).  The Wall offers some REALLY fun riding with swooping single track and technical open sections, sometimes smooth and fast, and sometimes rocky and rooty. This trail has a great variation of terrain as it traverses the North side of the Afan Valley. From the Cottages in Cymmer you are only 10 minutes from the start of the ascent on the side of the valley. Watch out for a wide open area with a large boulder to your right and a firebreak track leading up. That's your best approach. Warning… you'll love it so much you will want to do it again!
W2 Trail (combines White's Level and The Wall)
Distance: 44km
Time: 4 – 7 hours
Climb: 975m
Start: Afan Forest Park Visitor Centre or Glyncorrwg Mountain Bike Centre (Glyncorrwg is better!)
Overall Grade: red / difficult
Feel free to do this as a day of biking. You have the choice to re-fuel at Glyncorrwg or at Afan Forest Park, but the nature of Afan is that you can chop and change your routes depending on the how everyone is feeling. The trail is called W2 because it combines The Wall and White's Level (also see individual tabs for these trails). You can do them separately too. This is arguably (and folk do argue) the most fun you can have in a day at Afan. Do them separately, or do them together.. either way you will have a MASSIVE grin on your face on and off throughout the day.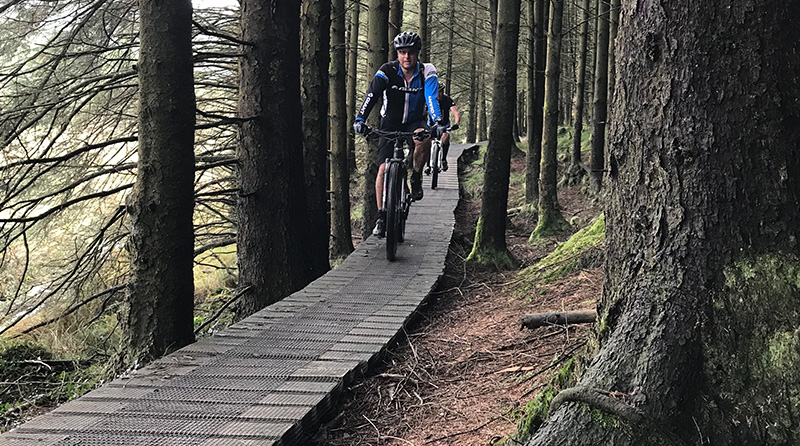 Blade Trail
Distance: 24km
Time: 2.5 – 3.5 hours
Climb: 795m
Start: Glyncorrwg Mountain Bike Centre
Overall Grade: red / difficult
The Blade Trail opened in 2014 and combined lots of awesome single track with some of the well-established 'classics' like Peregrine Ridge and Jetlag. It is a trail for the more experienced rider. The trail shares the killer ascent (legendary) out from Glyncorrwg Ponds (Mountain Bike Centre), but then loops even higher to give you some amazing views of Brecon Beacons before giving some speedy descents and a couple more technical climbs before the final drop back down the valley on an awesome red.
If you are feeling very fit then feel free to add 20km of Skyline to your route, although this has been extensively changed because of the work on the wind farm at the top, so check before attempting.
Penhydd Trail
Distance: 14km
Time: 1.5 – 3 hours
Climb: 550m
Start: Afan Forest Park Visitor Centre
Overall Grade: red / difficult
This trail isn't as demanding in sections as it's close neighbours up the Afan Valley, nevertheless, it has some excellent purpose built burms which will put a broad smile on your face. The trail takes in the Blue Scar to climb out of the Visitor Centre and then gives you a choice of trails/descents back to the visitor's centre.
On the climb, Blue Scar peels off and the Penhydd trail continues up the mountain. There are forest road climbs, lots of great views and ample singletrack descents. Beware some of the bike breaking rocky sections which take you back to the Visitor Centre. As this trail has some great climbs, and some more challenging descents, it is graded red. Take it easy on the rocky sections if you haven't been down them before!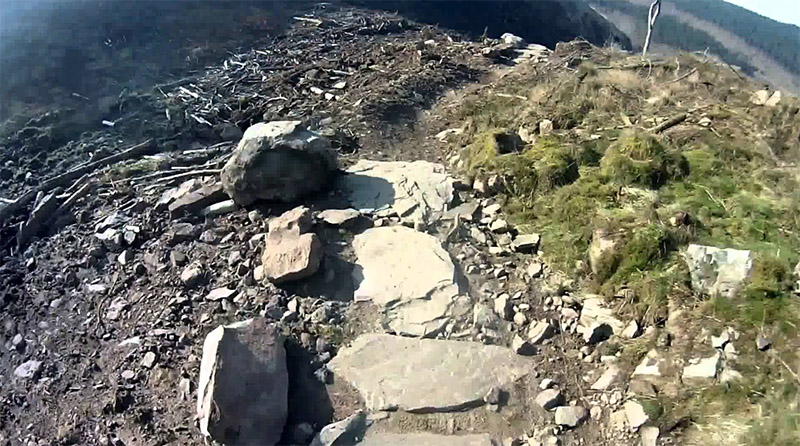 Blue Scar Trail
Distance: 7km
Climb: 347m
Time: 1 – 1.5 hours
Start: Afan Forest Park Visitor Centre
Overall Grade: Blue / Moderate
Blue Scar is a great way to introduce the uninitiated to the Afan Forest mountain bike trails. It's quite a climb to get the top, but you are rewarded with great views and some really fun swooping burms and some steeper sections towards the bottom. This isn't a technically difficult trail, but still great fun. Categorised as blue, it still has enough to thrill, but watch your speed or you'll be skirting the tops of the bends and slate is not known to be forgiving!
Skyline Trail
Distance: 46km
Time: 6-8 hours
Climb: 2,000m
Start: Glyncorrwg Ponds Mountain Bike Centre
Overall Grade: red / difficult
Years back, Skyline was 'the' trail to complete at Afan, but unfortunately, it has been heavily mashed by the construction work on the wind farm. This means that several sections have been closed and you link up using wide fire breaks.  If you want to do some exploring and fancy a very long day out on perhaps too many fire break roads with the occasional red section of single track, then go for it. However, most riders now (sadly) accept that things change and that you are likely to have a much better time riding W2 (if you want a long day out).  That said the views from the top are epic across to Brecon Beacons and this part of South Wales always delivers on views, so don't totally discount it. It really depends what you want to get out of a weekend away.
If you are going to do Skyline, then be warned it's a long day out. Take plenty of food and especially water. There is nowhere to refuel or drop down the valley to civilisation once you start. If it's a hot day in summer, then you will need at least 3L of water to get round safely!
Afan Bike Park Trail
Distance: 0.5km
Time: A few mins
Climb: 400-500m
Start: Afan Forest Park Visitor Centre
Overall Grade: Black / technical and very difficult
If you want to work on your extreme skills, then use Afan Bike Park. There are 5 runs with different grades ranging from blue to black. To get there use the one route up and then choose one of the five trails back down.
There is serious fun to be had swooping in on berms and jumps, but don't ride out of your comfort zone or you'll be off to Cardiff Hospital with a look of regret! There are also two Jump lines and a harder 'Pro line' with bigger jumps and step downs. You can get refreshments from Bryn Bettws Lodge. You can get to the trails via Gyfylchi which is near to the start of the final Zig Zag section on the Y Wal trail. As the loops are short, you can easily push back up to have another go!
Rookie Trail
Distance: 2.6 – 6.1km
Time: 30mins to 1hour
Climb: slight
Start: Afan Forest Park Visitor Centre
Overall Grade: green / easy
This is a fab winding and meandering trail for children, families and newcomers to mountain biking. It's a place to build confidence and have a great family afternoon with perhaps even a picnic.   The Green/blue (although it's questionably blue) route is low level and wide. However, there are several optional skills areas where you can try out some easy burms, some boardwalk and a few small steps. Great for beginners and the kids love it! Being close to the river means the perfect picnic spot is easy to find and the scenery is epic!
Cwmcarn Trails
Distances: 10 – 20km
Time: 1.5 – 2.5 hours
Climb: 300 – 560m
Start: Off A467 signed Cwmcarn Forest Centre
Overall Grades: orange / moderate to red / difficult
This is a great warm up on a Friday afternoon if you can get away from work early. It's just 10mins from the M4 just after you cross the Severn Bridge. From the M4 junction 28 (or M50 / A40 / A449 if you're coming from the north) drive up the A467 past Risca and Crosskeys towards Abercarn. Turn right several roundabouts up. There's a big (can't miss) sign saying Cwm Carn Forest Centre. Ample parking (buy a ticket) and a decent shop, loos and changing areas.
We recommend either the Cafall and Twrch trails, with the later giving you amazing views of the Bristol Channel. Both trails are mainly single track. Both have killer ascents, but it's well worth it. There are plenty of sweeping sections, but these are also great routes for full suspension bikes as the single track has it's fair share of rocks. You'll get round just fine on a hardtail, but wish you had that chance to sit down.
Cymmer and the cottages are only 50mins to 1hr drive from Cwmcarn.
Bike Park Wales
Distances: 1200 acre site with 28 trails (like a ski resort) – average 4km runs
Time: 8 to 15 runs in a day
Climb: 491m
Start: Check the Mountain Bike Wales website for accurate start points (CF48 4TT)
Overall Grades: blue/moderate, red / difficult, black / technical
Bike Park Wales offers a lift service which is best booked in advance. If not, then you'll be climbing for 20mins (fit) or 40mins (less so) for each trail. Each trail is unique and on average take you down 4km of purpose built swooping, rocky, jumpy or rooty blues and red runs. There are 28 runs to choose from and the average biker will get down 8 to 15 trails in a typical day.  Basically you'll have a blast!
Cymmer and the cottages are only 55mins drive from Bike Park Wales, so you can easily take in this area on one weekend day, and do Afan trails on the next day.
Brechfa (Brechfa Forest Trails)
Distances: Longest Gorlech Trail 18km (3 climbs, lots of downhill)
Time: 1.5-2.5hrs
Climb: 1,071m total
Start: Three car parks around Abergorlech (search Brechfa on maps/satnav)
Overall Grades: green/easy, blue/moderate, red / difficult, black / technical
Brechfa is only an hour away from the Bryn Teg House cottages in Cymmer and well worth a visit. There are four trails, one at each level (Green to Black), so it not only suits those hard as nails riders but is also good for a family bike ride. The main attraction is the Gorlech Trail which was designed by Rowan Sorrell. This comprises three big climbs and awesome descents stretching over 19km.  If you want to pump some adrenaline, then the Raven Trail black run is probably for you! For sustenance, use the Black Lion Pub (Gorlech-red) or The Shed cafe (Raven or Derwen Trails). Click the image below to check out the full description at the Mountain Bike Wales website.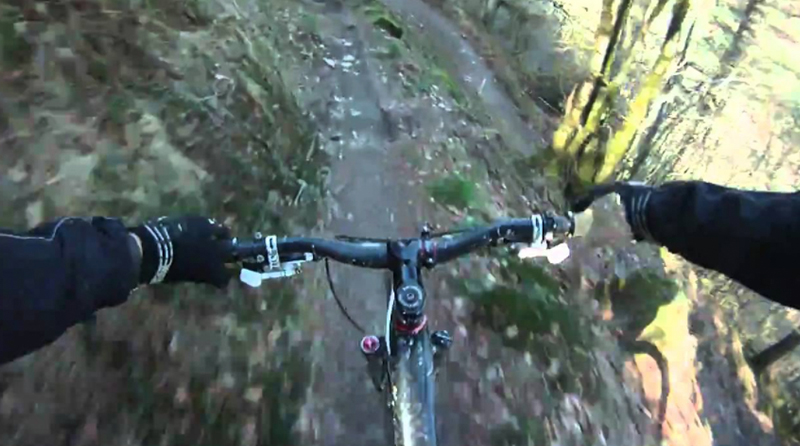 Liability

Please note that any advice, comment, description or general information in this bike trail section is given in good faith and does not make us in any way liable for your safety or incident during a ride. We have gathered information from experienced mountain bikers and from other websites describing the bike trails. We accept no liability for the accuracy of this information. Please ensure you do your own research on a trail before cycling it.
The bottom line is, please cycle within your ability and do not take unnecessary risks. If you are not sure, then get off and walk round an obstacle! But most importantly… have an absolutely brilliant time staying with Bryn Teg House and come back again to enjoy the Afan Valley with friends.